Revolutionizing Music Education: The Frost School at the Forefront
Lectures might be a great way to teach people about things, but they aren't a great way to teach people to do things. At the Frost School of Music the faculty has reinvented how musicians are prepared by designing a rigorous program that nurtures risk-taking, creative thinking, and performance. Learn why educators from across the country are travelling to Miami to see the only school taking this groundbreaking approach. Hear about alums who are better able to create music collaboratively, take risks, and navigate the world to get their music heard. This new approach to teaching has implications beyond music as leaders in every industry continue to press for teamwork, innovative problem solving, and creativity to ensure our successful future.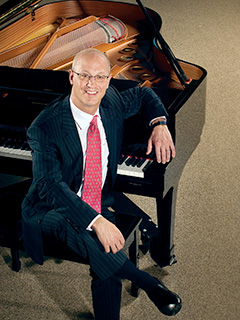 Shelton "Shelly" Berg is a jazz pianist and dean of the Frost School of Music at the University of Miami. At the age of 6, Berg entered the Cleveland Institute of Music studying classical music and subsequently earned Bachelor of Music and Master of Music degrees in piano performance from the University of Houston School of Music. He has mostly devoted himself to being a music educator, but has also recorded and arranged several critically acclaimed albums. Berg received two Grammy nominations for his work as co-producer, arranger, and pianist on Gloria Estefan's 2013 recording, "The Standards." In 2000 the Los Angeles Times named him one of three "Educators for the Millennium" and he was honored as the "Educator of the Year" by the Los Angeles Jazz Society in 2003. He was previously the McCoy/Sample Professor of Jazz Studies at the USC Thornton School of Music and is a past president of the International Association for Jazz Education. He has appeared as a performer and lecturer throughout the United States as well as in Canada, China, Mexico, Europe, Israel, Japan, Romania, and Venezuela.
---
Exploring the Invisible: Climate, Caves and Culture
Beneath our feet lies one of the most inhospitable environments on earth: underwater caves. Pushing the limits of the extreme, exploring this inner space can help answer fundamental questions about where we came from and what the future may hold for our freshwater resources and our climate. Cave diving also brings into bold relief the cognitive biases inherent in decision making under conditions of uncertainty and why we do and don't worry about contemporary environmental challenges.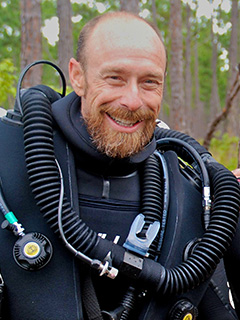 Environmental anthropologist Kenny Broad, M.A. '92, has participated in extreme scientific and filmmaking expeditions on every continent—from studying cocaine distribution patterns to venomous snakes to the deepest caves on the planet—to shed light on little known environmental and cultural subjects. He is a professor at the University of Miami Rosenstiel School of Marine and Atmospheric Science, is director of UM's Abess Center for Ecosystem Science and Policy, and also co-directs the Center for Research on Environmental Decisions at Columbia University, where he received his Ph.D. in 1999. He regularly collaborates with ecologists, climatologists, hydrologists, psychologists, and a range of other strange "ologists" studying perceptions of risk related to environmental phenomenon. Broad, along with the late Wes Skiles, was awarded 2011 National Geographic Explorer of the Year.
---
Unlocking Information: The Power of Data Visualization for Journalists, Scientists and the Rest of Us
Never before has so much data been available to the public. From crime statistics to public school test scores, citizens have the ability to access mountains of data on issues that impact their lives locally and globally. But having information isn't the same as being informed. How can citizens use data to identify trends or pinpoint new solutions? In the past two decades, visualization—the graphical display of information— has become a skill as important as literacy or numeracy, as it is arguably the most powerful tool to help us derive meaning from the enormous amounts of data produced daily. Until recently the tools of data visualization were available only to scientists, statisticians, and designers. But now, thanks to easier and cheaper tools, data visualization is becoming a language available to everyone. Join international expert Professor Alberto Cairo to see these tools at work and see how you can apply them.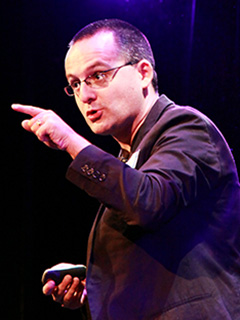 Alberto Cairo is the Knight Chair in Visual Journalism at the School of Communication at the University of Miami and also directs the Visualization Program at UM's Center for Computational Science. He teaches courses on information graphics and visualization, and is interested in the convergence between visual communication, journalism, cognitive science, maps, and statistics. He is author of several books about information visualization including The Functional Art: An Introduction to Information Graphics and Visualization (2012) and The Truthful Art: Data, Charts, and Maps for Communication, to be published in 2016. He organized the world's first journalism Massive Open Online Course (MOOC) and has spoken at the most influential international conferences on visual journalism and design. He has taught and consulted for educational institutions and media companies in more than 20 countries. He was previously the director for Infographics and Multimedia at Editora Globo, the magazine division of the biggest media group in Brazil, and an assistant professor at the School of Journalism at the University of North Carolina at Chapel Hill. He also led the creation of the award-winning Interactive Infographics Department at El Mundo in Spain.
---
Responsive Architecture: A Glimpse into a Future Where Everything Around Us Knows More and Does More Than Ever Before
Tables that tweet. Coffee cups that curate messages. Facades that fuel displays. This talk by Rudy el-Khoury invites the audience to imagine how our built environment will be transformed by information technology and objects that think, connect, and communicate with us and with each other.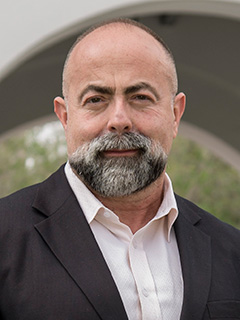 Rodolphe el-Khoury is dean of the University of Miami School of Architecture. Trained as both a historian and a designer, he divides his time between scholarship and practice. The work of his firm, Khoury Levit Fong (KLF), has won international awards. He is the author of numerous books on 18th-century European architecture and contemporary architecture and urbanism, including See Through Ledoux; Architecture Theatre, and the Pursuit of Transparency; The Living, Breathing, Thinking, Responsive Buildings of the Future; Monolithic Architecture; and Figures: Essays on Contemporary Architecture. el-Khoury's current research in architecture focuses on applications for embedded technology and robotics aiming at enhancing responsiveness and resilience in buildings and smart cities. el-Khoury's work has been featured in national and international media outlets that cut across disciplines ranging from WIRED Magazine to the Wall Street Journal to the Space Channel to BBC World. He has shared his work through teaching, visiting professorships and lectures at dozens of institutions in the U.S. and abroad.
---
Conquering HIV/AIDS: The Road to a Treatable Disease
Join one of the nation's most prolific researchers on HIV/AIDS to learn more about the journey medical professionals have taken to treat this disease. For more than 20 years Margaret Fischl has been part of the team that built the University of Miami AIDS Clinical Research Unit, the first National Institutes of Health-funded AIDS research center in Florida, a state with the highest number of diagnosed HIV infections. Fischl will share her work as an international expert in designing and conducting clinical studies that have led to groundbreaking treatments for HIV and rapid, dramatic reductions in the number of HIV-related deaths. She will also touch upon the challenges that lie ahead as researchers push to identify a vaccine to prevent HIV infection.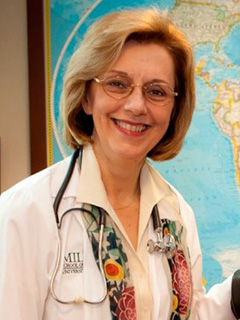 Margaret Fischl, M.D. '76, is a professor of medicine, director of the HIV/AIDS Clinical Research Unit, and co-director of the Miami Center for AIDS Research at the University of Miami Miller School of Medicine. Dr. Fischl was one of the first investigators to pinpoint the heterosexual transmission of HIV and was part of the team on the pivotal clinical study that led to approval of the first drug for the treatment of HIV in 1986. She has participated in the design and implementation of more than 150 studies for the treatment of HIV/AIDS. Fischl has been lauded for her pioneering role both locally and nationally for bringing attention to the AIDS crisis from its earliest days and working diligently in research labs and clinical trials to develop treatments to fight the disease. Her work has been published in numerous peer-reviewed medical journals and has garnered continued competitive grant support from major research funders.
---
How I Became Comfortable as That Lady: Racial Identity, Silence, and Equality in American Public Schools
American public schools are a critical part of how we hope to prepare citizens for our democracy. Yet while they hold the promise for an egalitarian future, law professor Osamudia James argues they also simultaneously entrench deep racial inequality. In our society, acknowledgment of race and racial identity is on the wane, with politicians, policymakers, and the legal community all eager to adopt the language of colorblindness. We repeatedly hear that race doesn't matter or that white privilege does not exist, yet we see passionate cries from the students at the University of Missouri and many other groups suggesting otherwise. What happens when people of color enter predominantly white institutions and try to retain their racial identities? Professor James examines diversity and identity in public schools, exploring how "colorblind" laws and policy pose harm not just for people of color, but American democracy. What is the price of admission to privileged white spaces? What is the role of identity in ushering in substantive equality? And how does affirming racial identity bring us closer to the promise of American equality?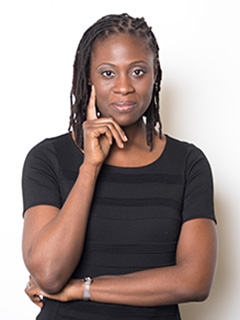 Osamudia James is professor of law at the University of Miami School of Law, where she writes and teaches in the areas of education law, race and the law, administrative law, and torts. Her scholarship explores the interaction of law and identity in the context of public education, and some of her more recent work includes "White Like Me: The Diversity Rationale's Negative Impact on White Identity Formation," published in the New York University Law Review, and "Opt-Out Education: School Choice as Racial Subordination," published in the Iowa Law Review. Her commentary has been published by the New York Times, The Washington Post, and other national outlets. Professor James is a co-recipient of the 2014 Derrick A. Bell, Jr. Award, was named to Lawyers of Color's 50 Under 50 List in 2015, and was selected by Legacy Miami Magazine as one of South Florida's Top Black Educators. She received a J.D. cum laude from the Georgetown University Law Center in 2004 and an LL.M. from the University of Wisconsin Law School. Before entering the academy, she was an associate with King & Spalding in Washington, D.C.
---
Training the Brain to Be More Attentive: How Elite Athletes, Military Personnel, and Others Perform Better Under Stress
Attention is necessary for everything we do—from learning, to making decisions, to regulating our mood. Yet our capacity to pay attention is limited when we are under stress. Amishi Jha, associate professor in the Department of Psychology, works with elite athletes, firefighters, active duty military personnel, accountants, and others in high-stress careers to better understand how we can do our best even in the most demanding and challenging situations. Learn what cutting-edge research is revealing about how you can protect your brain from stress and train yourself to pay attention using mindfulness.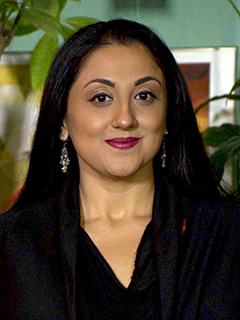 Amishi Jha is a neuroscientist and associate professor in the Department of Psychology at the University of Miami and director of contemplative neuroscience for the UMindfulness Initiative. She studies how the brain pays attention and the effects of mindfulness training on cognition, emotion, and resilience. With grants from the Department of Defense and private foundations she has been investigating the potential of mindfulness training in education, sports, business, and the military. Her work has been featured in scientific journals and is frequently cited by the national media. She has received several awards for teaching and innovation in science, and speaks around the globe on topics such as optimizing attention, brain fitness, mindfulness, and other forms of contemplative training.
---
The Power of Yes and Why: The Journey to Happiness, Success, and Fulfillment
Entrepreneur, author, fashion designer, and academic Neri Karra, a member of the University of Miami class of 1999, recounts her personal journey from a Bulgarian vineyard to a Turkish refugee camp to the University of Miami campus—and from there to London's vibrant fashion and academic circles. She will make the case that hope and inner resilience—saying "yes" to yourself even when the world seems to be saying "no" —can help overcome obstacles and bring dreams within reach.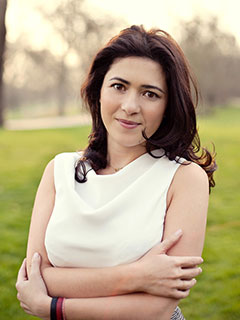 Neri Karra, B.B.A. '99, is the founder and creative director of NERI KARRA, an Italian leather handbag and accessories label based in London. In 1989 her family, along with 360,000 Bulgarians of Turkish ethnicity, were asked to leave Bulgaria. They arrived in Istanbul with two suitcases. In 1996 Karra was awarded a full scholarship to the University of Miami, where she studied business management and graduated summa cum laude in two and a half years. In 2000 she founded her own brand, which has grown to include 27 NERI KARRA boutiques in 14 countries as well as relationships with hundreds of retailers worldwide. Neri has a Ph.D. in management studies from the University of Cambridge and is the author of two books. She teaches at a number of leading colleges and universities in London and abroad.
---
Choosing Not to Choose: In Praise of Life at the Intersections in Culture, Science, and Policy
The University of Miami is a global institution that reaches across the borders of geography, identity, and discipline. Learn the journey of one UM undergraduate from his native Brazil to South Florida and to a campus where he faced choices: biology labs or economics problem sets? Policy analysis or soccer? Hear Mateus Lima, Class of 2017, explain why his answer at every crossroads has been "yes." He will reflect on learning across disciplinary lines and make the case for how a University of Miami education is preparing him to tackle some of the pressing issues of the next century by allowing him to live, think, and create in the intersections.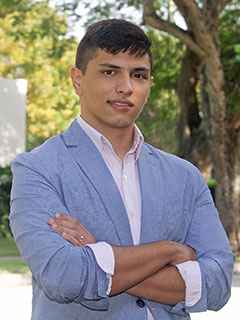 Mateus Lima is a member of the Class of 2017 at the University of Miami. Lima is from Brazil and is majoring in economics and biology, minoring in chemistry and health care management and policy and is also fulfilling the requirements for admission to medical school. He is president and captain of the University of Miami men's club soccer team and is passionate about athletics. He has served as a research assistant in the lab of Julia Dallman, assistant professor of biology, and plans a career focused on improving how health care is delivered.
---
The Distant Present: A Look at Miami's Future as a Global Artistic Gateway
From "America's Winter Playground" to "the Gateway of the Americas," playwright Tarell McCraney explores how Miami's distinctive mixture of worlds (old and new) will grow its artistic wealth.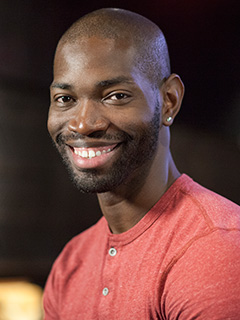 Tarell Alvin McCraney, a native of Miami's Liberty City, is a playwright and a professor of theatre and civic engagement at the University of Miami Department of Theatre Arts. His plays include the acclaimed trilogy, The Brother/Sister Plays, Head of Passes, Choir Boy, And Wig Out! As the Royal Shakespeare Company's International Playwright in Residence, he co-edited and directed the Young People's Shakespeare production of Hamlet, which toured the United Kingdom and was presented at the Park Avenue Armory in New York. During the 2013-14 season he directed his own version of Shakespeare's Antony and Cleopatra, reimagined during the Haitian revolution against the French, at the Royal Shakespeare Company in Stratford-upon-Avon, GableStage in Miami, and The Public Theater in New York City. McCraney is the recipient of numerous prestigious awards, including a 2013 MacArthur "Genius" Grant. He is an associate artist at the Royal Shakespeare Company and a Hodder Fellow at the Lewis Center for the Arts at Princeton University. He is an ensemble member of the Steppenwolf Theatre Company, Chicago, and a founding member of Teo Castellanos/D-Projects in Miami. McCraney is a graduate of the New World School of the Arts High School in Miami, the Theatre School at DePaul University in Chicago, and the Yale School of Drama.
---
SPONSORS
Eric T. Levin Family
University of Miami Citizens Board
The Biltmore Hotel